Word Lists
Two Syllable Word List

Three Syllable Word List
Kindergarten Sight Word List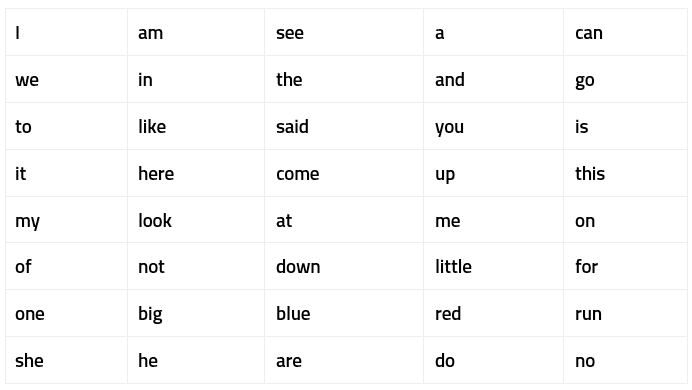 Recommended Learning Apps
Toddler Apps:
Dinosaurs Connect the Dots (Apple or Android): Improve dexterity and number recognition
Eric Carle's Brown Bear Animal Parade (Apple $1.99 or free on Android): Learn animal names, sounds, colors in this beautiful app.
Fish School (Android or Apple): Learn ABCs, 123s, and shapes with colorful fish friends
Kapu Blocks (Android $2.49 or Apple $1.99): Teaches physic concepts and gravity rules through free play
Tiggly (Apple) Learn about shapes, drawing, vocabulary & more.
Toca Kitchen Monsters (Apple): Build finger dexterity as you feed two messy monsters
Singing Fingers (Apple $.99): Fingerpaint with sound
Shadow Puppet Edu (Apple)
Wheels on the Bus by Duck Duck Moose (Apple or Android): Interactive songs, record yourself singing!
Zoo Train (Apple $.99) Learn the alphabet, match patterns, recognize shapes
Preschool Apps:
Daisy the Dinosaur (Apple): Learn the basics of computer programming with Daisy!
Dr. Panda's Café (Android or Apple): Run your own café as the cook, waiter, & barista
Hideout (Apple 2.99): Teaches kids how to read through a series of fun activities
Little Writer Tracing (Apple $.99): Fun and easy to use letter tracing game
Musical Me (Apple): Music based games teach pitch, rhythm and instrumentation
OneGlobe Kids (Apple): Learn about cultures and kids from around the world